4th SARUD Regional Coordination Meeting in Stavropol, Russia
The key issues to discuss were the progress of the implementation of the SARUD master`s program, development of the knowledge platform and quality control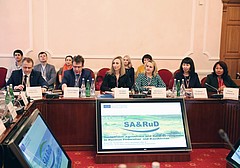 The 4th Regional Coordination Meeting in the frames of the SARUD project took place on the 1-2 March at the Stavropol State Agrarian University (Russia). The event was attended by the University of Hohenheim (Germany) and Warsaw University of Life Sciences-SGGW (Poland), as well as by seven agrarian Russian and Kazakh universities implementing the SARUD master`s program: the Buryat State Agricultural Academy, the State Agrarian Universities in Omsk, Michurinsk and Novosibirsk (Russia); Kazakh Agro Technical University, the State Universities in Kostanay and Kokshetau (Kazakhstan). Besides, the representatives of the Russian State Agrarian University – Moscow Timiryazev Agricultural Academy (RSAU-MTAA) took part in the meeting.
The event was opened by the rector of the Stavropol State University, Prof. Vladimir Trukhachev, who underlined the significance of international cooperation, which allows adoption of the best practices of foreign colleagues in terms of the organization of educational, scientific and industrial activities, as well as sharing innovative inventions with partners. In his turn, the SARUD project coordinator, Prof. Martin Dieterich (the University of Hohenheim), stressed the account of projects in the field of sustainable development in rural areas as an important stage in achieving their balanced growth taking into account ecological, economic and social aspects. The work of the SARUD consortium makes it possible to consider these issues from the scientific perspective of different countries, and the opening of the master's program serves as the basis for training specialists with unique competencies in the field.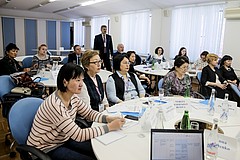 The representatives of the Russian and Kazakh universities, which launched the master`s program in autumn 2017, reported on the results of the first semester, including students` perception of the curricula, lecturers` feedback, and financial issues of the studies.
The scientists from RSAU-MTAA – acting as the main project expert in developing the knowledge platform – presented the progress on elaboration and implementation of the tool, well as further planned activities with this regard. The knowledge platform is supposed to include the following sections: module catalogues, scientific sources for studies, information about internships and work with practice partners, opportunities students' academic mobility, etc.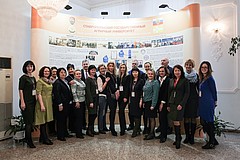 Special mention during the meeting was maid of the quality control plan and monitoring. The partners discussed launching and composition of external quality groups on the study program and also revised the quality criteria.
Finally, the meeting participants exchanged opinions regarding the format and speakers at the SARUD Final Conference that is planned for the 3-4 of May at the Novosibirsk State Agrarian University.